In February I got the car back, and finally I could start driving and work on breaking in the motor. As usual the weather wouldn't cooperate because I needed to do something car related, so it rained heavily the entire time when I went to the shop to pick it up. As I arrived they were smoothing out a couple of spots in the base tune, and shortly afterward I was on my way home.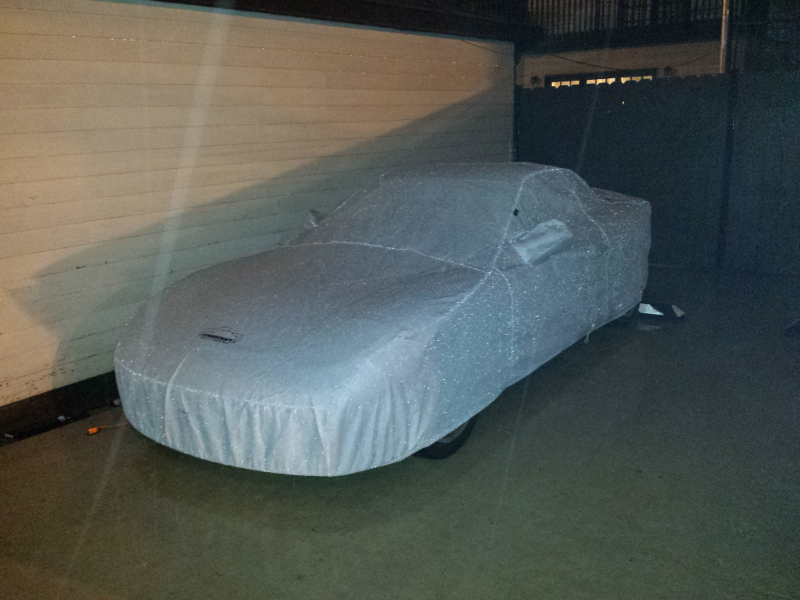 It didn't get better
It was a rough road to get to this point, full of ups and downs (mostly downs) through the winter until I was able to drive the car back under it's own power. Before I could really stretch my legs I'd have to get some miles on the motor and get tuned.
On the way back from buying the car in Florida I had noticed only a few things I wanted to fix which didn't seem like a big deal. The usual interior rattles and odd cracked trim pieces, mirror switches, etc needed to be fixed, but it didn't really seem like a big deal. Going from that perspective to having to do a rebuild and fix loads of other issues was hard enough, but there was still a lot of work to be done.
Not long after again parking in my reserved spot, my downstairs neighbor hit me for the second time. This combined with finding holes in my gas tank while trying to remove the subwoofer from the rear was not very encouraging.
The body shop
What a mess.
In retrospect I should have just taken the battery or ECU with me or something so it was impossible to start the car. Instead I wrote a large note which sat in the window saying not to start the car and I talked with the rep who I would be working with until I was sure he understood. I let him know that if someone screwed around, I would know. If they started the car and turned it off fast they would probably flood it, and I would know. If they did anything stupid, I would know. Basically if anything happened they should be prepared to pay for a tow and repairs. In short: Don't start the car.
Of course along with the call from the body shop saying the door was fixed, I also got the great news that they had started the car and turned it off without letting it warm up, and that it now wouldn't start. There went any chance of me getting any work done there again. When I went to pick up the car I couldn't get it started easily, probably due to both how flooded it was and how dead my tiny battery was from them sitting cranking it for a while.
I wish I would have taken a picture of the body shop guy's face when I told him they could expect to pick up the bill for whatever it would take to get me going again. Luckily for me the guys from Elite drove out to the body shop and got it up and running again for me. It also kind of sounded like they gave the body shop owner a piece of their mind, which was nice for me. I was still putting miles on the engine, so it could have been a lot worse, but it's just another thing that should never have even happened in the first place.
Tuning
I did eventually make it through the break-in process in time to get tuned and dynoed, but again hit some trouble before I was able to put down my final numbers. An electrical issue was causing my fuel pump to get low voltage, so some wiring work had to be done to fix the issue. Everything was looking good so we got my boost controller all hooked up, only to find there was some issue there too, so another time.
I made 333 whp/277 ft-lb at ~12psi, which was just my wastegate spring pressure. I'm a bit disappointed in the numbers since I'm all set up to produce a bit more power, but I can wait it out as long as I need to. I think the numbers are great for the mods and boost, but I did think I was going to go a little farther before being thwarted by more previous ownership gremlins.
Until then I will have the time to get used to the power, which is more than I've had before and in a much lighter car.